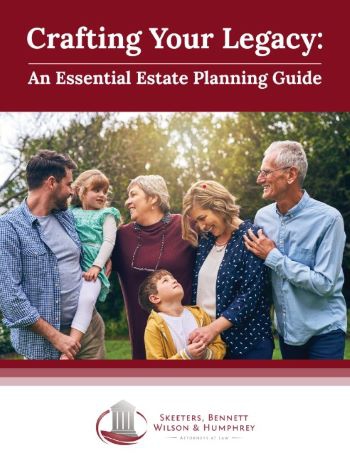 Life can be unpredictable, but one thing is for certain. If you fail to make an estate plan, the state will step in to make these key decisions on your behalf.
At Skeeters, Bennett, Wilson & Humphrey, we believe an effective estate plan is a commitment to ensuring the story you've crafted through your lifetime finds its rightful continuation. That's why we've created this free resource, Crafting Your Legacy: An Essential Estate Planning Guide.
Our informative guide discusses the four key elements you need to create an estate plan that will effectively protect your assets and your loved ones:
Last Will and Testament. A Testament outlines how your assets and belongings should be distributed after your death.
General Power of Attorney. A General Power of Attorney grants someone the authority to make financial and legal decisions on your behalf.
Medical Power of Attorney. A Medical Power of Attorney allows someone to make health care decisions for you in case you become incapacitated.
Trust. Trusts are legal arrangements that hold and manage assets for the benefit of specific individuals or purposes, often used for estate planning and asset protection.
Simply fill out the form on this page and we will immediately email you the guide.
Do You Need to Speak to an Experienced Central Kentucky Estate Planning Attorney?
For nearly half a century, Skeeters, Bennett, Wilson & Humphrey has been one of the most respected estate planning firms in the region. We serve clients throughout Central Kentucky, including Hardin County, Meade County, LaRue County, Nelson County, Breckinridge County, Jefferson County, and Grayson County. Please call our office at 270-351-4404 or fill out our contact form to schedule a consultation to discuss how our estate planning services can provide the peace of mind you deserve.
Fill Out the Form Below for Your Free Copy